ARAG to move, rename downtown Des Moines building
ARAG, a legal insurance firm that employs about 180 in Des Moines, is moving to a new location and renaming a downtown building in the process.
The company plans to leave Capital Square for a new office at Keck City Center, an eight-story parking garage and commercial building at 500 Grand Ave. As part of the move, the property's owner will name it The ARAG Building.
ARAG will occupy about 41,000 square feet on the ground floor, the skywalk level and a mezzanine. Construction is scheduled to start this spring and the company plans to move in November.
The goal is to create a space that helps recruit and retain employees, said CEO David Murray.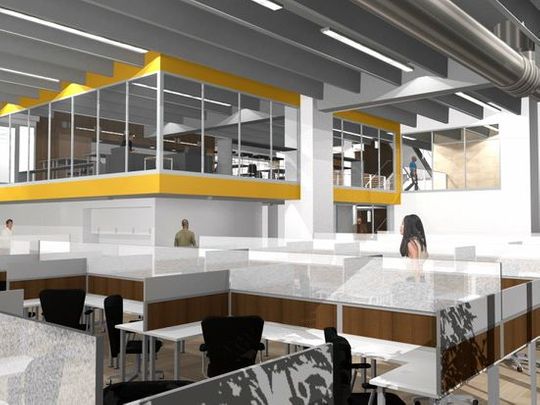 While the legal insurance field is growing, Murray said he recognizes it might not be the first choice for many young workers. So the company wanted to create a desirable place to work with an open floor plan and abundant natural light.
The first floor will have 18-foot ceilings and 12-foot-tall windows. The mezzanine will be surrounded by glass walls and will overlook the office. A boardroom will be on the skywalk level.
"It's really meant to be open and inviting and not an old insurance company look," Murray said.
ARAG's parent company is based in Germany but the Des Moines office serves as its U.S. headquarters.
Murray said the company needed room to expand. It is growing by 10 to 15 percent per year and has surged from 120 to about 180 employees in the past five years.
Keck City Center's commercial space, which sits below several levels of parking, is currently vacant. The building was home to a second-run theater that had several names over the years before closing in 1998. Later, Des Moines' downtown school moved into the space and operated there until 2011.
The building is owned by Lawmark Capital, a Canadian firm that has left its mark on downtown Des Moines by acquiring and renovating struggling parking garages and offices. Lawmark has been renovating the Financial Center floor-by-floor in an effort to bring new tenants to the office tower. It also overhauled the Partnership Building after it was damaged in the 2014 Younkers building fire.